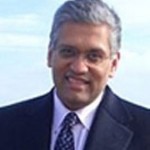 Mr Ameet Patel is a highly skilled surgeon with experience of over 3000 surgery procedures, operating from the King Edward VII Hospital, London.
Mr Patel qualified as an M.D from St Georges Hospital, London in 1985 and trained in surgery in the UK, USA and Australia. He was appointed Consultant Surgeon at Kings College Hospital, London in 1999, a post which he still holds today. 
Regularly invited to train other surgeons across the world, Mr Patel also gives live link demonstrations of laparascopic surgery techniques. He has published many obesity related articles in medical journals including Obesity Surgery, Annals of Surgery, British Journal of Surgery and Diabetes & Vascular Disease Research.