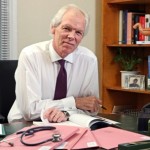 Dr David Ashton MD, PhD is regarded as one of the UK's leading obesity experts.
Dr Ashton graduated with a medical sciences degree from the University of St Andrews and underwent clinical and postgraduate training at the University of Manchester where he achieved several academic distinctions. He subsequently completed a doctorate in epidemiology and biostatistics at Imperial College School of Medicine, London.
Dr Ashton's research interests include the metabolic aspects of obesity and the relationship between physical activity and cardiovascular diseases. He has published numerous articles, scientific papers and book chapters  with his latest article on the lack of evidence for preoperative psychological screening published in Obesity Journal. He has written guidelines on physical activity for the World Health Organisation and is a contributing editor to the Journal of Physical Activity and Health.
Dr Ashton contributes to national and international scientific conferences and is regularly invited to lecture on a wide variety of medical topics to both medical and lay audiences. He has made numerous television and radio appearances.
Dr Ashton's interest in the treatment for Gastro Oesophageal Reflux disease (GORD) arose as 40% of obese patients also suffer with symptoms of Acid Reflux. It is this overlap that has led us to expand our service to now include Acid Reflux Surgery.